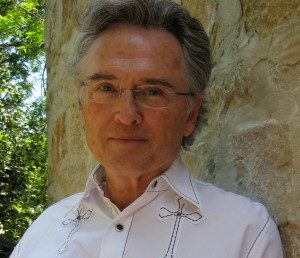 Author of Same Kind of Different As Me
DENVER MOORE was a dangerous, homeless drifter who grew up picking cotton in virtual slavery – in the 1960s.  RON HALL was a successful art gallery owner who had a healthy bank account but emotionally was running on empty.  Although worlds apart, their destiny collided when Ron's wife Debbie insisted that Ron join her in serving food at a local homeless shelter. As soon as she met Denver there, she had a vision that he would change the city and that her husband must befriend him. Sadly, she didn't live to see the incredible result of the unlikely friendship she initiated. Their story, immortalized in the New York Times best-selling book, Same Kind of Different As Me, inspires people to take off their racial, social, and economic blinders in order to find common ground.
Ron Hall's life was centered around a successful career as an international art dealer and a passion for his Rocky Top ranch on the Brazos River west of Fort Worth, Texas.  All this changed in 1998 as a result of an encounter with a homeless man who was threatening to kill everyone in sight in the homeless shelter where Ron and his wife Deborah had begun to volunteer two weeks earlier.  They had gone there as a result of her prophetic dream they would meet a homeless man who would confound them with his wisdom.
This life changing encounter, featured on many television and radio shows such as CNN, Fox News, and NPR, inspired Ron to write his first book Same Kind of Different As Me, a story of hope and redemption.  The word of mouth hit became a New York Times platinum bestseller and stayed on the list for more than three and a half years.
Ron's fascinating and compelling story is told in an upbeat motivational program at collegiate, non-profit, corporate and church events across the nation.  The story has helped raise more than $80,000,000 for the less fortunate.
Ron Hall was born on his grandfather's Texas farm while his father was fighting the big war in the Pacific.  He grew up dreaming of being a cowboy but after receiving a master's degree from TCU, he got sidetracked in the world of high finance.  While in Houston, Texas in 1971 to buy municipal bonds, he met an art dealer whose envious lifestyle caused Ron to rethink his career.  Within a month, banking took a back seat to art dealing, thus launching a successful career buying and selling museum quality masterpieces in major countries around the world.  His new book, The Poopsie Chronicles: American Dreams and Fine Art Schemes, spins many humorous and unbelievable tales from behind the scenes of the highfalutin art world.
In connection with his travels across the nation raising awareness and funds for the homeless, Ron has received numerous awards and recognitions.  On the National Day of Philanthropy in 2006, Union Gospel Mission named Ron and Denver Philanthropists of the Year and more recently in 2011 the Krist Samaritan Center honored them both as Good Samaritans.
In 2007, President Bush appointed Ron to the State Department Cultural Property Committee to advise the President on diplomatic matters regarding international art and antiquities.  He served through December 2011.
In 2014, Paramount Pictures announced a film adaptation of the book with the same name. The cast consists of Renée Zellweger (Deborah Hall), Djimon Hounsou (Denver Moore), Olivia Holt (Ron's daughter), Jon Voight (Ron's father) and Greg Kinnear (Ron Hall). Currently Ron is co-producing with Mary Parent and Michael Carney is directing. Release date: October 20, 2017.
Ron lives in Dallas with his wife Beth and in addition to art dealer he wears many hats including motivational speaker, New York Times bestselling author, artist, and cowboy.  But, his favorite is that of grandfather to four little girls who affectionately call him Rocky Pop.
Websites
---
www.samekindofdifferentasme.com
www.facebook.com/samekindofdifferentasme
Books
---