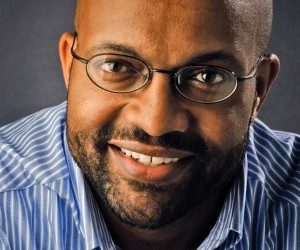 Author, Journalist, Cultural Critic
Jabari Asim is the acclaimed author of What Obama Means, as well as the author of the highly praised and controversial The N Word: Who Can Say It, Who Shouldn't, And Why.
He is a frequent public speaker and commentator who has appeared on NPR's "Morning Edition," "The Today Show," "The Colbert Report," "Hannity & Colmes," "the Tavis Smiley Show," "the Diane Rehm Show" and countless other programs. He has lectured at many of the nation's finest universities, including University of Illinois at Urbana-Champaign, Northwestern University, Syracuse University and the University of Florida.
A former editor and syndicated columnist for the Washington Post, Asim is executive editor of The Crisis Magazine, the NAACP's flagship publication. He has also published work in The New York Times, the International Herald Tribune, The Wall Street Journal, Los Angeles Times Book Review, Salon.com, Essence, and theRoot.com.
Praise for The N Word by Jabari Asim:
"Presciently timed, The N Word is no polemic. It is a lesson in American history and a reasoned argument for self-censorship."  The Chicago Tribune
"Asim's book is not just the etymology of the word but also a capsule history of racism in America, which has the word at its core."  Newsday
"a sharp-eyed musing on the history of the word and how it bears, or should bear, on a media-driven culture that is dangerously ahistorical, especially in matters of race."  The Los Angeles Times
"serves, both implicitly and explicitly, as a brilliant and bracing history lesson for the countless pundits debating the virtues of black popular culture."  The Washington Post
Praise for What Obama Means by Jabari Asim
"does a deft job of placing Mr. Obama's speeches within an oratorical tradition, tracing echoes in his work back to such disparate predecessors as Martin Luther King Jr. and Barbara Jordan."  Michiko Kakutani, New York Times
"What Obama Means makes a compelling case for optimism about Obama's presidency and the coming changes in U.S. race relations."
"Asim makes a plausible case that Obama's inauguration will usher in a renewed commitment to social justice tempered by a cool-headed pragmatism—an end to the divisive and counterproductive racial politics that has come to dominate civil rights activism since the assassination of Martin Luther King Mr."  The Washington Post
"Asim's book bristles with insights that will prove indispensable to making sense of the Obama era."  BookForum
Websites
---
Books
---

What Obama Means: …for Our Culture, Our Politics, Our Future
ISBN: 0061711357

The N Word: Who Can Say It, Who Shouldn't, and Why
ISBN: 0547053495