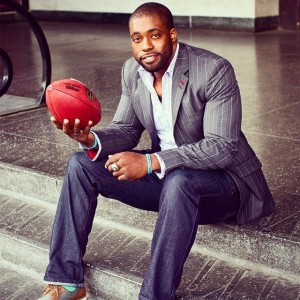 Football player, Innocence Project spokesperson, wrongfully convicted activist
Title: "The Brian Banks Story of Redemption and Determination"
Brian Banks was an All American football player with NFL star potential and a college scholarship when his world came crashing down. Convicted at the age of 16 for a crime he didn't commit, Brian spent 5 years imprisoned for the rape of a classmate. Once a rising football star poised for the NFL, the false accusation and eventual conviction shattered his professional dreams. In a seemingly hopeless situation, Brian continually maintained his innocence all the way until his accuser recanted her story. With the help of the California Innocence Project, Brian was exonerated in 2012, ready to pick up the pieces of his football career. Brian played briefly with the Atlanta Falcons and now is a nationally recognized public speaker. His story of courage and perseverance is currently being adapted by Oscar-nominated director Lee Daniels into a feature film. Brian has delivered speeches to over 100 different audiences ranging from nonprofits, public interest groups, corporate events, law schools, universities, and high schools across the country. At the podium, Brian tells his incredible true story of how persistence and determination led him to his exoneration and his dream of a lifetime, becoming an NFL player. Brian opens up to audiences that apology and forgiveness plays a big role in your happiness and growth.
Following his exoneration, Brian fought against all odds to return to football and received NFL tryouts from the Kansas City Chiefs, San Diego Chargers and San Francisco 49ers. He attended minicamp with the Seattle Seahawks under Pete Carroll, who had offered Brian a football scholarship to University of Southern California in 2002 before his conviction. Brian played linebacker with United Football League briefly before signing with the Atlanta Falcons in 2013. Though he left the team after preseason, Brian lived out his dream to play in the NFL. His spirit and passion put him on the radar of NFL commissioner Roger Goddell and he was offered a role within the NFL. Brian relocated to New York City and works in the NFL Headquarters.
Brian refuses to run from his past. He has become an activist for other wrongfully convicted men and women and successfully assisted in the exoneration of two cases, using his experience as a way to help others in similar situations. In early 2015, Brian signed a feature film deal with A-list producer, Amy Baer and Gidden Media. The film chronicling his life will be directed by Lee Daniels (FOX's Empire, The Butler, Precious). Brian has also signed with Peacock Productions to develop an unscripted series, examining wrongful conviction cases over the course of a season. He has appeared on shows and networks such as CNN, 60 Minutes, The Tonight Show, The View, Good Morning America, CBS Nation Morning news, and a host of other TV and radio publications. Brian's story has touched the heart of many worldwide. His class and positivity moving forward is nothing short of inspiring and motivating.
Websites
---
Facebook.com/TheBrianBanksStory
Video
---