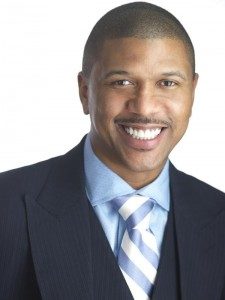 ESPN/ABC analyst, former NBA player
Current ESPN/ABC studio analyst and former 13-year NBA veteran Jalen Rose is one of the few professional athletes to maintain a high profile post retirement. Long known for his post-game quotes and great relationship with the media, Jalen continues to show his versatility in the broadcast booth, in the entertainment world and as a philanthropist.
Jalen was born and raised in Detroit, Michigan, where he attended Southwestern High School and the University of Michigan. In college he was part of the legendary "Fab Five" where he and his teammates revolutionized the sport of basketball on the court and off by wearing baggy uniform shorts, black socks and black shoes. The only team in Final Four history to ever start five freshmen, they led the Wolverines to back to back NCAA Championship game appearances. In 1994, Jalen was drafted in the first round by the Denver Nuggets. Jalen's most memorable NBA moments during his thirteen-year career include winning the NBA's "Most Improved Player" and "Player of the Week" awards in 2000 and "Eastern Conference Player of the Week" accolades in
2005. As a member of the Indiana Pacers, his team appeared in three straight eastern conference finals including a trip to the NBA Finals in 2000.
While many basketball stars make the transition to the small screen after they hang up their basketball kicks, Jalen made the bold leap in the midst of his NBA career in 2001, becoming a multi-faceted reporter and on-air personality for Fox Sports Net's famed "Best Damn Sports Show Period." Working with the "Best Damn Sports Show Period" for six years, the budding broadcast star developed his own lifestyle-oriented "Jammin' With Jalen" segment. Shortly after retiring from basketball, Jalen – a mass communications major at U of M who ultimately earned his Bachelor of Science from the University of Maryland University College – went full throttle pursuing his passion in the multi-media, sports and entertainment world, signing with ESPN/ABC as a studio analyst. Covering a wide range of current events in the landscape of sports, he's appeared on the network's flagship shows SportsCenter, Mike and Mike in the Morning, First Take, SportsNation and ESPNews, as well as the NBA-related shows Coast to Coast, NBA Countdown and NBA Tonight. Wrapping up his fourth season as an ESPN studio analyst, Jalen will continue his work with the worldwide leader in sports television, appearing in-studio and on radio regularly on their family of networks.
In 2007, Jalen created Three Tier Entertainment (TTE), a LA based production and management company. TTE is committed to creating an artistic haven for actors, writers and directors. TTE produces smart, provocative commercial projects with a worldwide mass appeal for film, Television and the web.
A philanthropist who truly gives from the heart, Jalen established the Jalen Rose Foundation/Charitable Fund to create life-changing opportunities for underserved youth through the development of unique programs and the distribution of grants to qualified nonprofit organizations. Grants focus on education and sports and are distributed in Jalen's hometown of Detroit as well as other communities in need. More than $1.2 million in charitable donations have been distributed since the foundation's 2000 inception. Most recently, the City Council of Detroit awarded Jalen with a Spirit of Detroit Award in recognition of his exceptional achievement, outstanding
leadership and dedication to improving the quality of life.
Jalen's most substantial outreach initiative to date is the establishment of the Jalen Rose Leadership Academy (JRLA). The Academy will be a an open enrollment public charter high school on the Northwest side of Detroit. Scheduled to open in September 2011, the Academy will enroll 120 ninth grade students this Fall, followed by an additional freshman class each subsequent year. Detroit area students will receive a leadership-focused education based upon real-world, project-based experiences within the career context of sports & entertainment. This high school will ensure students receive extensive college exposure and course opportunities through a partnership with the University of Detroit Mercy. Jalen is the founder of JRLA and serves as the President of the Board of Directors.
A true play-maker on the court while charming and fashionable off the court, Jalen has been recognized for his style on numerous occasions including being voted one of the NBA's best dressed players. Jalen has proved to be more than just a professional athlete making him an all-around superstar on and off the hardwood. This mogul will always be known as "The Natural."
Websites
---