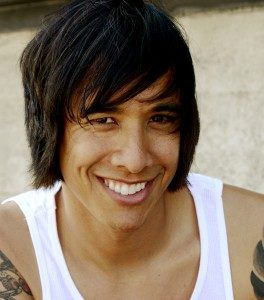 Pioneering artist, spoken word performer, filmmaker, and author. Kip Fulbeck has been featured on CNN, MTV, The Today Show, and CBS, and has performed and exhibited in over twenty countries and throughout the US.
He is the author of several books including Mixed: Portraits of Multiracial Kids; Part Asian, 100% Hapa; and Permanence: Tattoo Portraits, as well as the director of a dozen short films including Banana Split and Lilo & Me.
Fulbeck teaches as a Professor of Art at the University of California, Santa Barbara, where he received the university's distinguished teaching award and has been named an outstanding faculty member five times in recognition for his work promoting multiracial awareness, he was awarded the inaugural loving prize at the 2009 Mixed Roots Film & Literary Festival and also named a cultural pioneer at Harvard University a complete overachiever despite being only half-chinese, he is also an avid surfer, guitar player, ocean lifeguard, pug enthusiast, and multiple-time national champion in US masters swimming.
Empowered by his own background, Kip confronts media imagery, interracial dating patterns, and icons of race and sex in the United States, constantly questioning where "Hapas" fit in in a country that ignores multiracialism.  Kip's performance including some of his artwork and videos is thought provoking and entertaining leading audiences to consider the question, "What Am I?" Kip's message invites and inspires viewers to explore how our own ethnic stereotypes and opinions on interracial dating, gender roles, and personal identity are formed and furthermore, what we can do with racial understanding.
Identity in a Modern World
Nationally renowned speaker, artist, and slam poet Kip Fulbeck shares and narrates his photographic portraits of Americans onstage.  From celebrities to the person next door, Fulbeck's portraits and dynamic stage presence take his audience on a moving journey to explore our individual identities and values.  Part poet, part stand-up comedian, and part pop culture critic, Fulbeck quickly moves past "diversity" as a conversation only about race, instead inspiring audiences to tackle the larger questions of who we are, how we define ourselves, and how we engage with those around us.
The show will include several spoken word poems, an interactive PowerPoint presentation, and one of Fulbeck's short films.
Websites
---
www.facebook.com/thehapaproject
Books
---

Permanence: Tattoo Portraits by Kip Fulbeck
ISBN: 0811861317

Mixed: Portraits of Multiracial Kids
ISBN: 0811874087
Video
---