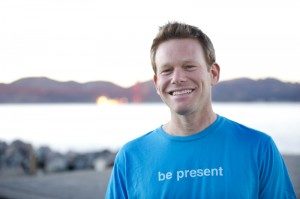 Wellness pioneer, host of " Yeah Dave" and author "Guide to Living in the Moment"
David Romanelli has been traveling the world sharing his Yoga for Foodies, Yoga + Chocolate, and Yoga + Wine experiences since 2004. His mantra: A beautiful, funny, and delicious moment each day keeps the stress away. Combining the ancient practice with pop-culture sensibilities was the inspiration behind his debut book, Yeah Dave's Guide to Livin' the Moment: Getting to Ecstasy through Wine, Chocolate, and Your iPod Playlist, which reached No. 1 on the Amazon.com Self-Help Bestseller List.
David Romanelli places great emphasis on creating and understanding "The Moment," those instances where mind, spirit, body, and senses converge to reveal incredible clarity and beauty. At the podium, David defines three ancient forms of strength necessary to ward off distraction and live fully in the moment. One with access to the present moment is a healthier, more productive professional, a more attentive parent, and a more loving partner.
David Romanelli brings his unique blend of wellness with a rock 'n roll sensibility to his teachings, and proves in all he does that the core of "enlightenment" is "lighten" (as in up). David has spoken at GRID Stockholm, American Express, Young President Organizations, American Association of Nurse Anesthesiologists, among many others. David lives and teaches (what) in New York City.
After graduating college, David Romanelli discovered yoga and soon thereafter co-founded his own chain of studios (AtOneYoga.com) with his thoroughly "Yeah Dave" attitude, melding mainstream grooves (like the Grateful Dead) with the ancient practice to help open doors to new students. David then joined forces with 2007 Entrepreneur Magazine's Woman of the Year Katrina Markoff to create the Yoga + Chocolate experience (maybe explain what this is) which has been featured in Oprah Magazine, Newsweek, and The New York Times.
In 2010, David launched the Yoga for Foodies experience (explain what this is) which was the feature story on the NY Times Dining Section with additional coverage in Elle, Marie Claire, Chicago Sun Times, Chicago Tribune, and the March 2011 issue of Food & Wine.
Websites
---
Video
---