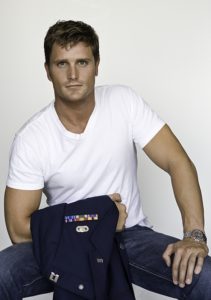 Actor, model, personality, and author Here's What We'll Say
It is quickly apparent that once Reichen sets a goal, it is only a matter of time before he reaches it. Since winning the Amazing Race, Reichen has caught the eye of several casting directors and has appeared on Frasier, The Drew Carey Show, Days of Our Lives, and The Young & The Restless. He has also performed in three movies including "Ethan Greene", "Partners", and "The Scorned", as well as having appeared on his own television show, "The Reichen Show" on the Q Television Network. He is one of the stars of the E! television production "Kill Reality", and is now on the series "Dante's Cove" (as Trevor) on the Here! Television Network. He has hosted many other shows on a variety of subjects and on a variety of major and cable networks.
Prior to Reichen's professional acting and entertainment debut, he was playing the role of his life while in the Air Force. Not wanting to face a court martial for being gay, Reichen had to live in two different worlds. One world where he had to watch everything he did and said for fear of being outed; the other world where he was completely free to be himself. "One of the hardest things for me to reconcile was the fact that I was completely open with my family and friends but faced the very real possibility of being court marshaled and going to jail if I was open with my "work" colleagues". As Reichen explains, "The don't ask don't tell policy is contradictory to what the Air Force and all the armed forces stand for. These institutions claim to value honor, integrity and honesty but they force people to lie in order to serve our country". These contradictions in policy are what ultimately led Reichen to opt out of the Air Force once he completed his active duty service commitment.
Once out of the Air Force Reichen had to figure out what he was going to do. Reichen felt the time was right for him to make a move to Los Angeles and begin the next chapter of his life where he could be himself. Happenstance brought him to meet a friend at a Los Angeles restaurant where he was approached by the casting director for "The Amazing Race". Several weeks and many interviews later, he and his partner were cast to be a part of the program. Reichen believes his military training was extremely helpful in his winning the show's million dollar prize. "Discipline is in my blood and I think it carried over to the show, and put us over the top".
Reichen has taken his determination to write a new book, "Here's What We'll Say", detailing the hardships of living a lie, hiding his being gay, and what needed to be done to make it through the U.S. Air Force Academy. The book was quickly picked up by Carroll and Graf and has been on shelves world-wide since Fall of 2006.
Reichen is the creator of a new jewelry line called "Fly Naked", recently picked up by Fred Segal and Saks Fifth Avenue. 10% of the gross proceeds of Fly Naked go to Servicemembers Legal Defense Network to combat the continued ban on gay people in the U.S. Armed Forces.
Reichen's latest venture is club development in the Los Angeles area, currently promoting "Whiskey Dick" in West Hollywood, a southern-themed nightclub.
Reichen's determination has led him to accomplish what he has so far. His charisma has made him a natural for entertainment and philanthropic-related ventures. It's that same determination, personality, and focus which will propel him forward for more exciting and meaningful experiences in his near future.
Websites
---
www.facebook.com/ReichenLehmkuhl
Books
---
Video
---